Astell&Kern has stayed on the course, offering the truest and most natural sound possible. The new AK380 offers the most authentic sound from any digital music format with enhanced features that are sought-after by Pro-Audio. 32bit 384kHz Bit to Bit Playback, Native DSD (up to 11.2 MHz) Playback, Parametric EQ with 20bands 0.01dB, 200 Femto Seconds VCXO Reference Clock, Scalable Amp, DNLA based AK Connect App, Metal Touch Sensor Home Button Every bit of the AK380 was designed for Pro-Audio in mind. The sound that Pro-Audio people have been looking for starts with the AK380. All of the AK380's circuit design including the digital-analog converter (DAC) are ready for 32-bit processing to handle 32-bit music natively. Other products have traditionally used sample rate converter (SRC) method down sampling for playback. However, the AK380 is capable of playing back 32-bit, 384 kHz original sound without any down sampling. The result is the AK380 plays up to 32-bit, 384 kHz, any 24-bit music files, or double layer DSD 11.2MHz natively, without conversion or compression.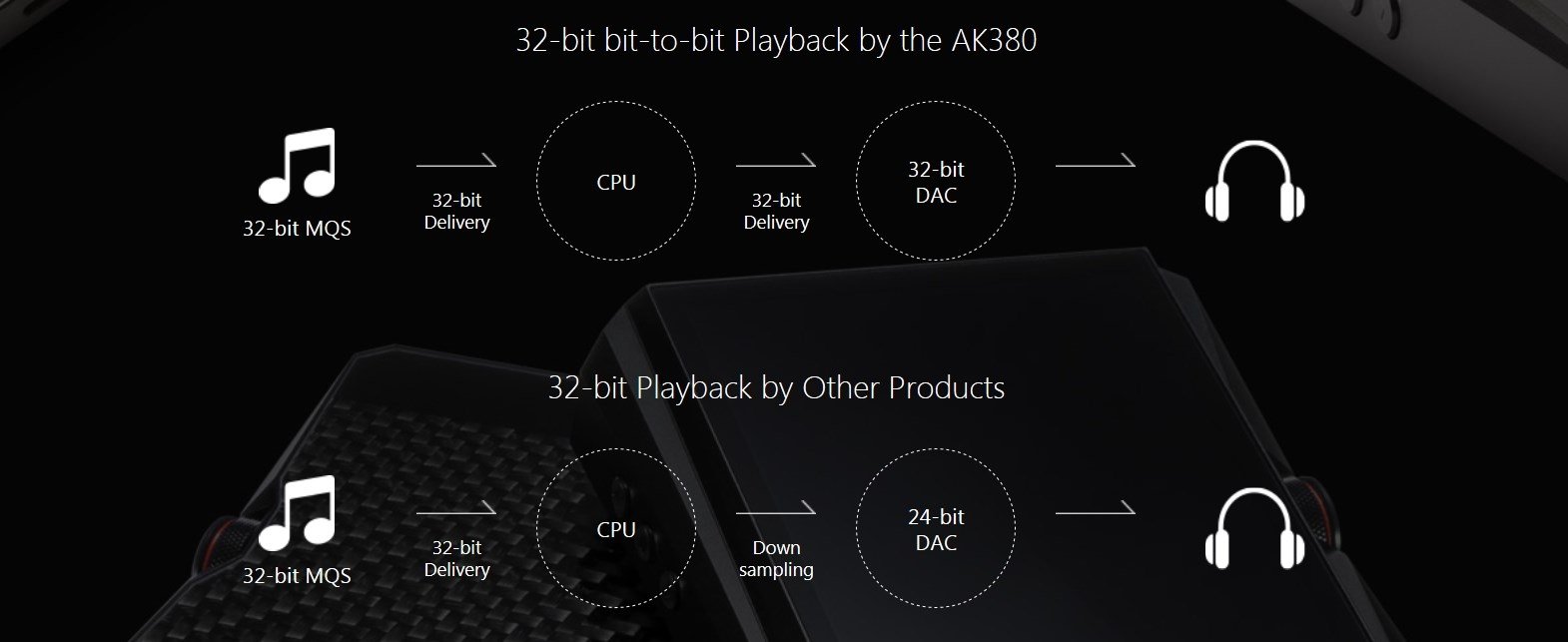 A parametric equalizer (PEQ*1) was implemented in the AK380 to deliver detailed adjustment of the original sound, and an audio digital signal processor (DSP) was added to aid in this process.This frees up CPU cycles previously needed forcalculating graphic equalizers (GEQ), allowing more detailed and accurate calculations via the dedicated DSP. The audio DSP expands the existing 10-band, ±0.5 dB graphic equalizer (GEQ*2) to 20-band, ±0.01 dB to more precisely adjust the frequency and gain (dB) as well as more accurately specifying the frequency range via Q value adjustments.

Astell&Kern implemented a voltage-controlled crystal oscillator (VCXO) high-precision clock with a reference jitter value of 200 femto seconds*3. Femto clocks are commonly used in high-end audio systems, and the clock is measured in high-precision femtosecond units(one quadrillionth of a second).


What is VCXO?
A VCXO, or a voltage-controlled crystal oscillator, is a type of crystal oscillation device that creates oscillation frequencies.
External environmental stimuli, which in this case mean voltage inputs, influence the frequency value. Adjustments to the voltage input tunes a precise frequency value.
Jitter refers to the undesired deviation in time that occurs in a periodic signal. In this case, jitter is the error that occurs in the reference clock required to perform the sampling in digital audio equipment.
By utilizing a femto clock, the AK380 is able to create a more accurate frequency value and make fine jitter corrections. As a result, the AK380 faithfully reproduces analog sound closer than ever to the original source when transmitting a digital signal as an analog signal.


The AK380 offers great expandable options through its micro USB connection and balanced out ports on the bottom of the unit.
The AK380's functionality is expandable by connecting to a variety of devices.
You can increase the output and connect to a greater variety of high-impedance professional headphones through the upcoming AK380 Amp. The AK380 Cradle features balanced output in addition to USB data transfer and charging capabilities, and the AK380 CD-ROM drive rips audio CDs directly to the AK380.