РАЗПРОДАЖБА НА МОСТРЕНИ АРТИКУЛИ.
PERFORMANCE, ELEGANCE & EXCLUSIVITY. A TRIBUTE TO THE FERRARI.

The Ferrari Art.Engine redefines personal music listening. As the world changes its listening habits and embraces digital music and iTunes® computer management of personal music libraries, the Art.Engine stands out as the only music system designed to reproduce the original artists' music in its truest form, bringing today's compressed music files to life.
Today's tech lifestyle has created a new mode of music listening and demands a totally new approach to audio. DWC, with input from Ferrari, has accepted this challenge and the result is Art.Engine.
You can see and hear the passion inspired by Ferrari in Art.Engine's every detail - from the racing-style NACA cooling ducts, sumptuous carbon fiber baffles and Ferrari inspired paint finish to the exceptional sonic performance. An audio and engineering tour de force, the Art.Engine is a complete audio system that combines two stunning speaker arrays, wireless signal input and digital electronics, all in a single tower.
Compact Size. Advanced Technology. Easy To Use
Powerful, yet streamlined at 47 inches tall, 16 inches wide and only 6 inches deep, the Art.Engine creates a room-filling sound field of high-definition stereo entertainment. Needless to say, performance is outstanding. "Vibrant," "clear" and "three-dimensional" are some of the words listeners use to describe the Art.Engine.
Art.Engine's sophisticated technology brings considerable advantages in performance, yet its extreme simplicity provides immediate ease of use. One control button sends music wirelessly from your computer, or you can plug in an iPod®, MP3, satellite radio or CD player and instantly enjoy an extraordinary music experience.
As one of the most exclusive products ever to bear the Ferrari name, Art.Engine is a tribute to Ferrari's standards, performance and style.
Primary signal input is wireless streaming of music files or radio via iTunes® (free downloadable software) running on any computer (PC or Mac) with wireless functionality. The Art.Engine may also be used with conventional line level sources such as CD players, tuners, iPods and most other portable devices, via RCA input jacks (accessory cables included).
ADVANCING AUDIO TECHNOLOGY. ENGINEERING FOR EXCELLENCE.
A New Experience In Music Listening. The innovative technology that makes Art.Engine such an extraordinary audio instrument is a clear reflection of the Art.Engine team's culture of unrestricted design and R&D. The resulting acoustic, digital and wireless technologies, materials, design and fabrication combine to create a significant advance in audio accuracy, stereo imaging and sound dispersion.
Wireless — The Future Of Listening. Art.Engine's wireless signal input system takes advanced audio performance to a new level of ease. Simply plug the Art.Engine into an electrical outlet and the digital receiver technology built into the Art.Engine will instantly take music files and web radio beamed from any PC or Mac computer and turn it into an exceptional listening experience. Art.Engine also provides a hardwire input connection for a CD player, satellite radio, iPod® or other portable music device, so you can listen to anything you or your guests want to plug in.
Stereo Imaging From A Single Point Source. Art.Engine has solved a significant problem encountered in conventional stereo systems: how to get both channels to sound balanced from any position in the room. Unlike conventional systems, which require you to sit in a specific location, perfectly positioned between two speakers, Art.Engine's proprietary signal management technology provides accurate stereo imaging to any location. Eliminating the need for two speakers and wiring provides unique flexibility in the placement of the Art.Engine within the room, creating an un-cluttered and elegant audio installation.
THE PASSION. THE PERFORMANCE. THE ELEGANCE OF MUSIC.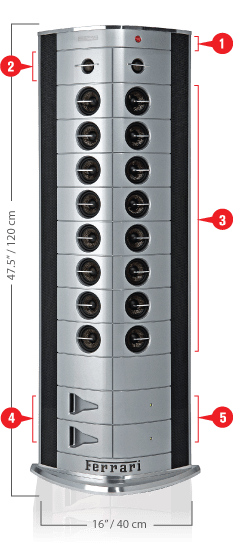 Art.Engine is the result of a dream inspired by Ferrari's uncompromising approach to product engineering and style. Experience the emotional excitement and exclusivity that is Art.Engine. In your home or office, Art.Engine will ignite your passion for music.
1) ENGINE START BUTTON:The Engine Start power button is designed to reflect the excitement and function of the buttons used on select Ferrari road and race cars. Designed for simplicity, this is the only control button on the Art.Engine.
2) TWEETER: 28mm Soft Dome Tweeter with Neodymium Motor – Art.Engine utilizes unique tweeters produced by ScanSpeak of Denmark, respected throughout the world as the leader in dome tweeter technology.
3) WOOFER: Art.Engine's multiple speaker arrays utilize small, low mass carbon fiber speaker cones to achieve dramatic performance improvements in "rise-time" (the time it takes to reproduce the signal impulse). Art.Engine rise-time is so immediate that the signal is reproduced without distortion and "time-smearing" – the blurring of the sonic image caused by the inertial lag found in larger speaker cones.
4) COOLING DUCTS: Twin NACA ducts provide air intake for cooling of the electronics built into the Art.Engine. NACA ducts have provided streamlined cooling for Ferrari GT and racing cars without requiring large ports and air deflectors. Spiral exit vents on the rear of the Art.Engine provide excellent airflow.
5) LED INDICATORS: Amp power status indicators.